Frequently Asked Questions
What kind of headset do I need?
---
We recommend that you use a USB headset for Tute lessons. (Headset = headphones with attached microphone)
---
What kind of internet connection do I need?
---
Recommended internet speeds for Tute lessons: Download: 2.0 Mbps Upload: 0.5 Mbps
You can check your internet connection speed at http://www.broadbandspeedchecker.co.uk Once the page has loaded, simply click the 'Start speed test' button. Wait for the test to complete, and you will see your Download and Upload speed results - Please note this is a 3rd party website.

---
Should I use WiFi or a wired internet connection?
---
Tute lessons work best on a wired internet connection. Where possible, connect your computer to your Internet Router/Hub using an Ethernet cable. One of these cables are normally supplied with your router, but can be purchased in various lengths on the internet.


If you need to rely on WiFi, ensure your signal strength is strong and that other users internet activity in your household does not affect your wireless connection. Managing updates and other internet connected software Please ensure no other applications are using the internet during your lesson, including Windows Updates. This can have an effect on your available internet bandwidth, which in turn may affect the quality of your lesson.
---
My teacher can't hear me / I can't hear the teacher?
---
If you are having trouble communicating with your teacher, check the steps below:

Ensure your headset hardware isn't on mute and the volume is turned up.

Ensure your computers sound volume and microphone volume is turned up and not muted.

On the Tute platform, click the headset icon to leave audio, then click again to re-run the Audio Setup – test your speakers and microphone – If working, click 'Join Audio'

If none of the above worked, close your internet browser completely, including all open windows and tabs. Ensure your headset remains connected. Open your internet browser again and log into your lesson – use the Audio Settings test tool to make sure your headset is working before clicking on 'Join Audio'
---
The audio and video streams are not in sync. Why?
---
Your local computer network may be experiencing high traffic – try refreshing your web browser. Other running applications on your computer may be slowing the lesson down.

Check for other applications running on your computer – close any you do not need for your lesson. You may have a bad connection to our server – click refresh your web browser to refresh your connection. Press F5 key to refresh or click the refresh icon next to the address bar on your internet browser.
---
I am unable to connect to lesson, what should I do?
---
1. Check your internet connection.

2. Make sure all lights are lit on your router.

3. Check you can browse to other websites.

4. Refresh the page. If you still cannot connect, please call the Tute office on 0330 330 9751
---
How do I log in?
---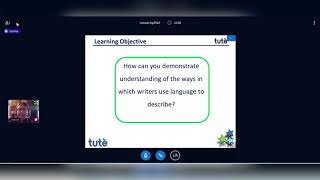 Simply click the 'login' button on the top right of the page
---
My login isn't working / I've locked myself out, what can I do?
---
Check you are trying to login at https://learn.tute.com/sos/login
Make sure you are entering your username and password exactly as it has been provided to you – passwords are case-sensitive. If you enter 5 incorrect combinations you will get an error message and will need to contact the SOS team on 01483 519800 who can get your password reset.
---
What browser is best to use?
---
Chrome or Firefox work best
---
---